Our 2013 Gift Guide! And no, you can't win anything anymore sorry
Christmas, Saturnalia, Kwanzaa, Winter Solstice, Yule,… Yep, they're all coming up soon.  And that means it's time to buy some presents.  Regardless of whether your shopping list is comprised of loved ones, people you work with who you'd rather avoid the rest of the year, or simply yourself, we're hoping the following list, lovingly hand selected by Rocker's staff of holiday elves – Erin Amar, Ken Eppstein, Kelly Camille Patterson, Amy Prohaska, Melissa Starker, Keith Valcourt and Kellygirl – will help you find something good to give during the holiday season. Or, for those of you who just got done eating your Thanksgivukkah leftovers, enjoy this opportunity to use that check Bubbe sent you.     
The bonus for this year is  Thanks to our awesome GIFT GUIDE SPONSORS – Kikkerland, Chronicle Books, Aggronautix, Buckaroo Mercantile and What the Rock?!  MANY OF THESE ITEMS CAN BE WON BY OUR READERS!  Just look for the WIN ME tag next to some of the lovely items below, and click to enter!  Winners drawn and notified on 12/30/13.
Here's the categories – click to jump, or scroll to see them all!
FOR READING WRITING AND ROCKING OUT
THE GIFT THAT ALWAYS FITS (MUSIC & DVD)
__________________________
THE GIFT THAT ALWAYS FITS (MUSIC & DVD)
 
The US Festival DVD – from MVD Distributors    $19.95  BUY ME    WIN ME!
Oh sure, everyone remembers Live Aid, but what about The US Festival?  This compilation includes live cuts from the big 1983 show, including performances by U2, The Clash, The Stray Cats, and more!  Bonus entertainment: the hair and clothes of everyone in the crowd. – EA
The Waitresses: "Just Desserts: The Complete Waitresses" BUY
You can't listen to a 1980s CD compilation or "Flashback Lunch" without hearing the mega hit "I Know What Boys Like."  The decade-defining tune is The Waitresses' great "One Hit Wonder" moment in time.  But, if you dig a little deeper, you'll find that the band had several bright and shining moments in their short lived (sadly, just 3 releases career.)  This amazing 2 CD set is a complete look at the group's total output including rare tracks and the hits "No Guilt", "Square Pegs" and the second greatest (Band Aid's "Do They Know It's Christmas?" is #1) Christmas song ever "Christmas Wrapping"  – KV
Jellyfish: "Radio Jellyfish" BUY
The music of Jellyfish was always a complex deeply- layered magical mix of inspired hooks and pure pop genius, so the idea of stripping away the production and getting to the core of the song is intriguing.  "Radio Jellyfish," is a 10-track collection of acoustic live performances, most done in the early hours of the morning at radio stations around the world.   These pristine cuts showcase the band's should-have-been-huge key tracks, near hits and choice covers all in bare bones glory.   Available on CD and limited edition clear vinyl.  – KV
Berlin:  "Animal" BUY
Songstress Terri Nunn is back, and ready to get her dance on!  Her unstoppable voice and electro-band's latest is packed with modern-sounding original club hits on par with the latest offerings from Lady Gaga and Katy Perry.  Terri sounds (and looks) amazing!  And the disc's one cover, an amped up cover of Jefferson Airplane's "Somebody to Love" is a nice treat.  – KV
The Grapes Of Wrath:  "The High Road" BUY
It is no secret that several staffers here at Rocker are fans of these Canadian popsters.  How can you not love the jangly guitars wrapped in Beatles-esque pop harmonies?  Almost 22 years after the band's stab at major label glory left them broken and discouraged they are back in full glory for a long-overdue full reunion.
In late 2012 the trio (Kevin, Tom and Chris) retreated back to their home studio to record this masterpiece, and the result features track after track of pitch-perfect pop (some power, some not) including "Good to See You" and "Mexico."  The other standout track is "Picnic" a total departure from The Grapes' regular style, sounding like their take on the best unreleased New Order track you've never heard.  The only negative is the disc is only available as an import.  So you're gonna have to fork out $25.00+ for it.  But trust me, it is well worth the price of admission.  – KV
Sarah McLachlan:  "The Essential Sarah McLachlan" BUY
She was the queen of 1990s estrogen-soaked folk rock and her Lilith Fair tours brought female rock to the forefront.  This 2-disc set collects all her hits including "I Will Remember You", "Into The Fire", and "Angel" and puts them alongside her greatest soundtrack songs and covers.  "Essential" is sure to take you back to those magical days when you grew out your armpit hair and kissed girls.  Well at least that is what I did in the nineties.  – KV
Dexys:  "One Day I'm Gonna Soar" BUY
Kevin Rowland is a musical shapeshifter; always changing styles, looks and musical directions.  Having gone from ragged street urchin to modern businessman, to cross-dressing mess, it's great to finally hear him so comfortable in his own skin.    The latest Cd from his band Dexys Midnight Runners, now dubbed just Dexys, features Kevin as a lovelorn singer crooning over jazzy tracks.  It is a pleasant smooth sounding disc, perfect for setting the mood.  You know what mood!  – KV
Bill Withers:  "The Essential-Bill-Withers" BUY
Bill Withers was a soul hit machine. Don't believe us?  Here's the list:  "Lean On Me", "A Lovely Day", "Use Me", "Ain't No Sunshine", "Grandma's Hands", "Just The Two Of Us" and many, many more!   This 2-disc set expands upon the already available "best of" CD to add some deep tracks from Withers impressive 8-album catalog.  Now 75, Withers has long been reluctant to put out new music or tour.  Hopefully this collection will reignite interest in the man, the myth, and the R&B legend.  – KV
Everything's Coming Up Profits: The Golden Age of Industrial Musicals:   $25.27   BUY
If you know someone who's always interested in kooky obscurities, how about this book bringing to light the stories of musicals created and performed for – what amounts to – corporate pep rallies?  Because how else are you going to get people excited about selling tractors and bathroom fixtures if you don't sing about it? – KG
Book website (with music samples) http://www.industrialmusicals.com/
Mystery Science Theater 3000 25th Anniversary Edition (Special Edition Collectors Tin)  $49.99   BUY
Make a B-movie lover's spirit brighter with a special edition tin celebrating the funniest hecklers in cinema history. The five-disc set includes six whole episodes, including four previously unreleased on video and a long-unavailable fan favorite, "Mitchell," plus a wealth of behind-the-scenes docs and supplemental material. – MS
"Here's Edie: The Edie Adams Television Collection"  BUY
In the golden age of television it seemed that everyone had a variety show.  While many of them were schlock that didn't stand the test of time, Edie Adams' shows, now on DVD for the first time in 50 years, were spectacular!
The widow of funnyman Ernie Kovacs was a compact entertainment tour-de-force— a showbiz fireball with the energy of a pixie and the pristine pipes of a Las Vegas lounge angel.  This 4 DVD set features all of her TV specials and shows, none of which have been seen or been available since their original airings over 5 decades ago.  In them, Edie is joined by a who's who of classic showbiz luminaries including: Sammy Davis jr, Bob Hope, Eddie Fisher, Bobby Darin and more!  Bonus features include Edie on The Ernie Kovacs show, promos with Sid Caesar and some ultra-sleek cigar commercials.  Everyone from fans of classic personality-driven entertainment, to devotees of "Mad Men" with fall in love with Edie over and over again.  -KV
DEVO Throbblehead from AGGRONAUTIX – $24.95   BUY ME   WIN ME
Q: Are we not an awesome toy that any adult new waver would appreciate?
A: Yes, We are a Devo Throbblehead!
Everybody wants a good thing, and we've got a gut feeling that this adorable little guy is just the Gift U Want.
– EA
Giant Gummy Bears: $29.95 – $39.95    BUY
What better way to surprise the sweet tooth in your life than with a giant gummy bear?  It's five pounds of adorable confection.  Everything is more fun when it's huge!  – KP
KISS Pez Dispenser Gift Set $16.49  BUY
"Pez I hear you calling, but I can't come home right now. Me and the boys are playin', oh Pez what can I do?"  We'll tell you what to do, Rock n Roll all night and have Pez every day.  – AP
Sriracha Candy Canes – $8.99  BUY
As a hot red sauce with a bright green cap, Sriracha already looks like Christmas, but now it comes in the shape of a candy cane! Keep them away from the kiddos though, these candy canes are hot, hot, hot! – AP
FOR READING, WRITING AND ROCKING OUT:
Hi-Fi Journal from Chronicle Books  $14.95  BUY ME!  WIN ME
This snappy blank book is the perfect way for vinyl enthusiasts to "go analog" and use a pen or pencil to "record" their thoughts.  -EA
Cassette Case from Kikkerland $10     BUY ME   WIN ME
It's hard to know to know where is best to keep one's cassettes nowadays, but luckily this little case will solve your problems.  Don't have a cassette?  Well it could be stuffed with money, cosmetics, a phone, or even a white mouse you are trying to prevent exploding.  -EA
Closing Doors by Mark Rudolph + a sweet deal from NIX COMICS   BUY
From Rocker's own Illustrated Reviews Editor comes a sweet holiday deal, $30 subscriptions and free shipping on back issues on all Nix Comics this December.  And while we're talking back issues, might we suggest CLOSING DOORS, the gorgeously illustrated story of the demise of a mom and pop record store by Mark Rudolph (Decibel Magazine)?  -EA & KE
i-Horn Boombox – $8  BUY ME  WIN ME
Boombox / "Wood" Speakers – $5   – from Kikkerland  BUY ME   WIN ME
LL Cool J once opined that he couldn't live without his radio.  We tend to agree!  Help your technology go old school with these fine accessories from Kikkerland that transform that boring iPhone, Android, iPod, or MP3 player into the retro charm of a boombox and get ready to crush some grooves.  Feeling more elite?  Choose the retro-radio "wood"-style speaker for the same price.
Hi-Fi Greetings from Chronicle Books  $12.95  BUY ME!  WIN ME
Rock it old school by shutting down your computer and actually send a note card through the good old US mail.  These extremely foxy 45-shaped vinyl-themed notecards will wow young vinyl enthusiast and grandparents who are unaware the medium ever went away. – EA
Retro Pen + Stylus – $6  – from Kikkerland   –  BUY ME    WIN ME
Remember writing on a sheet of paper?  We do.  This handy pen + stylus lets you go old school or new school with the click of a button.  Use as a handy stylus for your phone OR go old school and write on an actual piece of paper.  Don't worry, we won't grade your penmanship. – EA
Sterling silver "Derby Angel" Mini Charm necklace  – $73.00  BUY
Maybe you met her at the roller rink in high school, or maybe it was at the roller derby last summer. Regardless, this will remind her (or him) of the good times.  – KG
Evel Knievel Bathrobe – $59.99  BUY
The next time you answer the door in your bathrobe, make sure they know you're just on a break from your dangerous and exciting life with this robe that shouts, "Oh crap, I don't think he's gonna make it!"  – KG
Clubman Aftershave  $5.99  BUY
For the guy who subscribes to the thrift shop/grandpa's clothes aesthetic, now with these retro classic aftershaves, he can smell like grandpa too (in a good way)  . – KG
Safety pin earrings by Amy Glenn    $95-160    BUY
For the fashionable badass on your list, that potentially painful accessory of youth is back in a streamlined, precious metal design with the sharp point removed. Glenn also does something new with spikes for another pair on sale through A+R.
Rough diamond solitaire ring by Midwinter Co.  $175   BUY
The perfect gift for the lady who buys into Holly Golightly's belief that after 40 is the time to wear diamonds, but who retches at the words, "He went to Jared." The Delaware couple behind Midwinter Co. makes each raw, conflict-free ring by hand and donates a percentage of their sales to charity, so order early and often.
Creem magazine aged graphic T-shirt   $24.95   BUY
The print edition may be long dead, but fans of the rantings of Lester Bangs and co. can still represent with a distressed take on Robert Crumb's logo for the rag, complete with the salutation "Boy Howdy!" It's available on several different T-shirt styles for men and women, or you can splurge a bit and opt for a hoodie.
Big Foot Christmas Sweater  $42.50  BUY
With Bigfoot sporting Santa's hat, this sweater is adorable until you stop and wonder where Santa is and how the Sasquatch got his hat…  – AP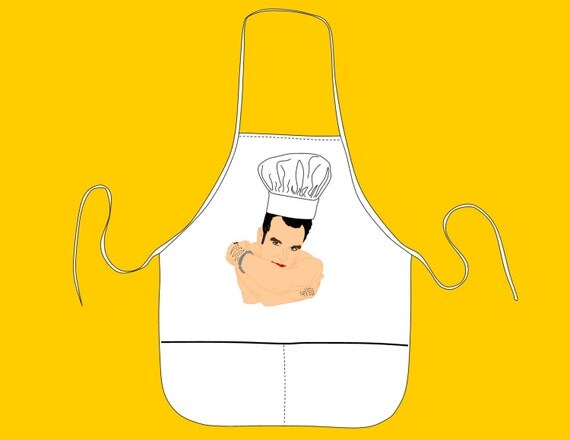 Morrissey Apron  $28  BUY
For your favorite vegetarian or vegan chef, 'cause you know Meat is Murder. Ask me Ask me Ask me, How Soon is (Dinner) Now? – AP
Be Scottish!
Become a Laird or Lady Gift Box  $22.17  BUY
& Red Insta Kilt Towel  $23.80  BUY
Register this gift and the lucky recipient will become a genuine (co)-landowner in the Scottish Highlands – of Dunans Castle, to be specific.  Your recipient will be entitled to a tour of the grounds and fishing rights, should they ever visit, your gift helps with the restoration of the castle grounds, and they'll even receive the title or Laird or Lady!
Perfect on its own, or as an accompaniment to the Become a Laird or Lady gift box, this fluffy towel (which is also available in green or blue) will further assist with those Scottish fantasies AND the drying of the lower body!  Remember, "If it's not Scottish, it's crap!"
Guitar Pick Bracelet from What The Rock?! – $15   BUY ME    WIN ME
Guitar picks take on a whole new attractiveness in these bracelets for ladies and gents from What the Rock?! of Columbus.  Never be caught unready to strum again! – EA
Keep Saturn in Saturnalia T-Shirt – $24.99  BUY 
It's sickening how in the modern world all people talk about at the holidays is Santa this and Rudolph that.  This t-shirt reminds people for the reason for the season, and since 497BC, Saturn, the Roman god of agriculture and time, is that reason.  – EA
Big Eye Kids Toilet Seat – from Buckaroo's Mercantile $42  BUY
Bring your bathroom from boring to borderline insane with a blinged-out big eye kids toilet seat!  This sweetie from Buckaroo Mercantile is just one of a number of items you can get featuring big-eye Keane-style kids enjoying vinyl records, a product line that includes tissue boxes, business card cases, and switchplates (WIN ONE CLICK HERE) but come on, when it comes to the holidays, nothing says love like a new toilet seat. – EA
Wall Clock + Vinyl – from Kikkerland  $12  BUY ME   WIN ME
How many times have you found yourself asking, "Is it time to rock yet?"  With this nice vinyl-style clock the answer will always come back a resounding "Yes!"    – EA
Anne Taintor Wall Calendar 2014  $13.99  from Chronicle Books  BUY ME!   WIN ME
Nuclear family makes you want to go nuclear?  Kitsch-artist extraordinaire Anne Taintor serves up a year of sass for disgruntled housewives in training and those who admire them.
Yellow Submarine Shower Curtain – from Kikkerland  $20   BUY ME   WIN ME
Does getting up for work make you feel like a blue meanie?  Escape to a land of cheerful cleanliness with this Yellow Submarine Shower Curtain and be transported to a place far beyond the sea of holes.  – EA
Blue Canary in the Outlet by the Light Switch – $12.99  BUY
Who watches over you? Make a little birdhouse in your soul. This little birdie will light your way and bring some joy especially as you whistle along to They Might Be Giants.  – AP
Yellow Submarine Reusable Ice Cubes– from Kikkerland $6   BUY ME   WIN ME
Is that The Beatles in my glass of ginger ale?  Perchance to dream!   These reusable chillers will make any beverage more groovy without watering it down.  Nowhere Men need not apply. -EA
Super table $900  BUY
If money were no object,…  This padded table/ottoman is one that works equally well for both comic book fans and fans of pop art.  – KG
KISS Rock N Roll Recipe Pint Glass: $6.99   BUY
This versatile pint glass will appeal to KISS fans who appreciate beer AND mixed drinks.  It does double duty, both as a vessel for any beverage and a resource for cocktail recipes, all named after KISS hits! – KP
Musical Note Ice Tray – from Kikkerland  $8  BUY ME   WIN ME
Take serving a drink "on the rocks" to a whole other level by serving up libations with musical note shaped ice cubes!   Silicone tray makes it easy to pop cubes out, but if cold drinks aren't your style, consider using this item for making jello jigglers, soaps, or very large sheet music for especially slow musical learners.
If you're looking for a rockin' charity to donate to this holiday season here's a few you can feel good about helping out. 
Adopt a Skull – from The Mutter Museum $200 DONATE HERE
What could be more goth/rock/death metal than adopting the remains of a long dead fellow human being?  The folks at the Mutter Museum are looking for good souls (get it?) to help with the work of preserving these human remains, collected more than 100 years ago by a scientist trying to debunk phrenology.  Choose from a variety of criminals, vagrants and street urchins who died under deplorable circumstances, and for $200 you'll get to have your name featured at the museum as your selected skull's sponsor.  Even the dead need love this holiday season. – EA
Girls Rock Camp Boston DONATE HERE
Is there anything more important for a young girl to learn, than how to rock out?  We don't think so.  And at Girls Rock Camp that's just what they teach.  From learning to play an instrument, to showmanship, and songwriting, Girls Rock Camp is making the cute little girls of today the rock stars of tomorrow, all while empowering them to use their voices and build their self-esteem.  Better yet, your gift to this very rocking charity is tax deductible. – EA
Songs for Slim: Rockin' Tonight Benefit cd $12.97 / Songs for Slim T-Shirt $20 DONATE HERE
With its opening notes from the reformed Replacements, this benefit cd is like a trip to a swampy rock n' roll bar where honest music is performed. Standout contributors include John Doe, Tommy Keene, Lucinda Williams, Jeff Tweedy, Young Fresh Fellows, and many more. Not only do you get amazing music, but the proceeds benefit the Replacements guitarist from 1987-1991, Slim Dunlap, and his family, to help with medical bills incurred as a result of Slim's stroke last year. – AP
Finally, a couple of suggestions to help the families of a pair of musicians who left this earthly plain far too soon:
Earlier this year Rocker was rocked to the core when we lost our friend Scott Miller of Game Theory / The Loud Family and author of "Music: What Happened?"  A fund to help his family and young daughters can be found here: http://www.gofundme.com/2nz0vk
You can also buy "Music: What Happened?"  HERE   – AP
And recently, the much beloved Charlie Chesterman of Scruffy the Cat / Chaz and the Motorbikes lost his battle with cancer. Here's the fund if you'd like to donate to help the family out financially. http://www.gofundme.com/552yw8
We also suggest purchase of Charlie's final record: Solid Gold Chestnut Dispenser: http://www.cdbaby.com/cd/charliechesterman7 – AP